Meister Sports Management has been fortunate to work with hundreds of talented players over the course of our 35 year history. One of our proudest achievements has been working for three legendary players.
Randy Johnson
Hall of Fame Class of 2015
Randy Johnson also known as "The Big Unit" is the greatest left-handed pitcher of all time. The towering 6'10 ace played for 22 Major League seasons and broke record after record along the way. A five time Cy Young Award winner (including four consecutive wins from 99-02) Randy also sits atop all left handed pitchers in history with 4875 career strikeouts landing him second only to Nolan Ryan in total career punch outs. Randy and the Arizona Diamondbacks won the 2001 World Series in which Randy was named World Series MVP tossing in 3 games to the tune of 17.1 IP, a 1.04 ERA and garnering 3 of the Dback's 4 wins to take home the championship. Indomitable throughout his career, even at the age of 40, Randy would go on to be the oldest pitcher to pitch one of the only 23 Perfect Games in Major League History on May 18th, 2004 against the Atlanta Braves. Randy is also one of only seven pitchers in history to throw both a Perfect Game and a No-Hitter of which he has thrown two. Having represented him throughout his entire career, Randy was inducted into the Hall of Fame in 2015 nearly unanimously (highest percentage of any pitcher in history at 97.27%) .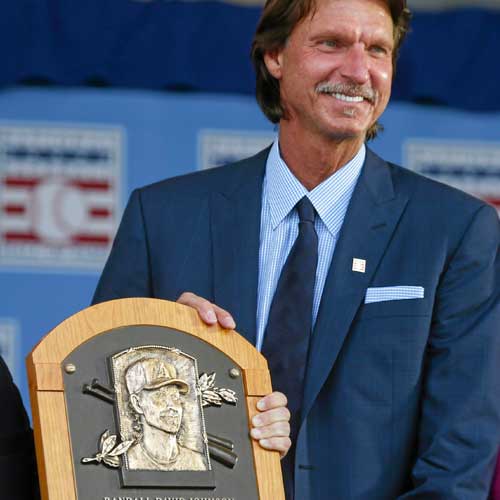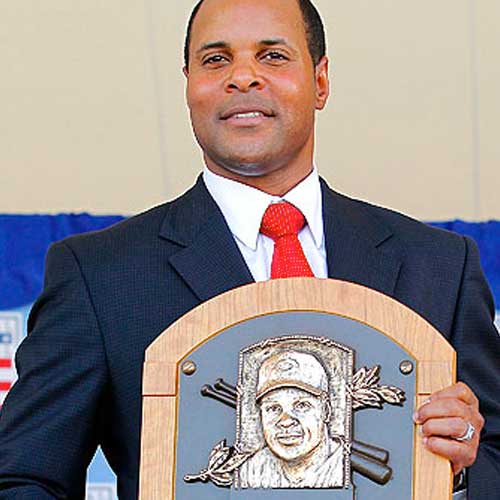 BARRY LARKIN
Hall of Fame Class of 2012
One of the most iconic Reds players ever having spent the entirety of his 19 year career prowling the infield in Cincinnati "Lark" is one of the greatest Shortstops of all time. After a 1995 season where he hit .319 with 15 HRS, 66 RBI's and 51 Stolen Bases, Barry was named the National League MVP in addition to winning a Gold Glove, Silver Slugger, and being named to the All Star team. Larkin was also a member of the 1990 Reds team that won the World Series, sweeping the Oakland Athletics in 4 games. A 1st round pick, 4th overall selection out of the University of Michigan in 1985 and a member of the 1984 US Olympic team, Barry would go on to be a 3 time Gold Glove Winner, 12 time All Star, and 9 time Silver Slugger. Elected to the Hall of Fame in 2012, Barry has also enjoyed a post-playing career from the broadcast booth, most recently joining the Reds Broadcast Team in the spring of 2021.
Larry Walker
Hall of Fame Class of 2021
One of the most feared hitters of his era, Larry Walker was a force to be reckoned with throughout his illustrious 17 year career. "Bogger" was a 7 time Gold Glove Winner, 3 time Silver Slugger, and won 3 Batting Titles over the course of his career. In the mid 80s Canadians were not eligible for the Major League Draft but Larry was signed by the Montreal Expos in 1984 as an undrafted free agent and while in the minor leagues actually played with Meister Sports client and fellow Hall of Famer Randy Johnson. After making his debut with the Expos in 1989 Larry signed with the newly formed Colorado Rockies in 1994. In 1997 Larry would lead the National League in Home Runs with 49 and 130 RBIs all while hitting .366 and leading the league in OBP (.452) SLG (.720) and OPS (1.172) garnering him National League MVP honors. Ranking 12th all time in Slugging Percentage (.565) and 15th in OPS (.965) Larry finished his career in 2005 and is the newest Meister Sports client to be elected to the Hall of Fame this year in 2021.